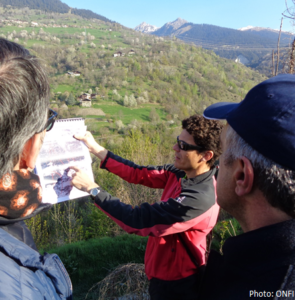 The first phase of the cooperation programme, which started in 2013, was successfully ended last year. The multi-thematic programme funded by the AFD involved at the one hand Turkish forestry services (OGM) and on the other hand ONF and its subsidiary ONFI, supported by French players from both the private and the public sector. A great variety of topics were addressed, chosen according to the two parties´ needs and interests: wood mobilisation in mountains, carbon accounting, the organisation of public reception in forest, natural hazards or mine site restoration. During a 5-year period, Turk foresters benefited from trainings and sharing of experiences on methods and tools of forest management used in France.
Parallel to this, the French side were boosted by the many discussions and experiences shared with OGM, leading player in the European forestry sector (22 million hectares of forest, that is to say 29% of Turkey´s surface area).
A good example of this is the component "adaptation of forests to climate change », where French and Turk experts worked to set up and prepare seed exchanges and tests of forest species origin.  These projects are expected to be carried out during the upcoming phase two.
Three experts from ONF and ONFI will leave for Ankara this week to support AFD in the preparation of the programme´s second phase, scheduled to run for 2 years. This phase will include 12 thematic areas with an aim to strengthening the sustainability of Turk forest policies through the integration of climate change, biodiversity and ecosystem services.  Beyond actions carried out by ONF and ONFI, a large panel of French experts will get involved in different parts of the programme.