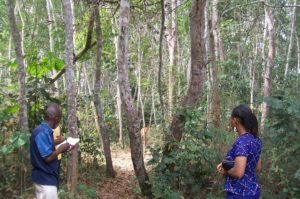 The last time such a full-range inventory was carried out in Côte d´Ivoire was in 1978. Confronted with the challenges of deforestation and forest degradation threatening the country´s biodiversity, The Ivorian Ministry of Water and Forests is launching the national forests and wildlife inventory this year.inventaire forestier et faunique national (IFFN)
Over a two-year period, teams from ONF Côte d´Ivoire, IGN and IGN-FI will work in close collaboration with Ivorian operators from the Forestry Development Society (SODEFOR), the National Agency for Support to Rural Development (ANADER) and the Ivorian Office of Parks and Reserves (OIPR).
ONFI has created the branch ONF Côte d´Ivoire for this occasion, thus setting up permanently in the country, involving national and international teams in the project. After Brazil, Gabon, Colombia and Cameroon (until 2018), it is the fifth time ONFI sets up in a country where it operates. Thanks to its team in Abidjan and the involvement of its experts on specific missions, ONFI will be working to help Côte d´Ivoire face its environmental and climate related challenges.  The first step is the national forests and wildlife inventory (IFFN). The analysis of its results will provide the Ivorian State with the means to establish a national strategy for protecting and managing its natural resources.