A second mission took place in Morocco from September 19 to 22 as part of a study relating to the development of a methodology for evaluating the success rate of reforestation.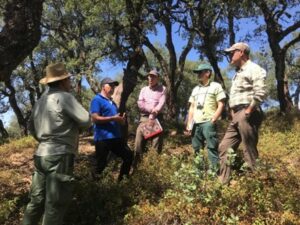 This mission was an opportunity to bring the expertise of ONF and ONF International to the ANEF (Moroccan National Water and Forest Agency).
As a reminder, the "Ghabati Hayati" program supported by the French Development Agency (and to which this study is attached) has the overall objective of supporting the sustainable management of Morocco's forests and national parks, contributing to a low-carbon transition, resilient and inclusive country and the protection and maintenance of its biological diversity.
This mission allowed:
– Presentation of the results of the analysis-diagnostic phase of success rates during the last 4 campaigns;
– Carrying out a field mission with forest managers from the ANEF provincial directorates of Taza and Khemisset in particular (on the Middle Atlas of the North East, on the Central Plateau and on the Maamora Suberaie).
– Establishment of the program for the 3rd mission planned for November, on the collection of field information by testing the methodology developed by ONFI and validated by ANEF and the data necessary for the establishment of a system of control plots in the main forest ecosystems.